2012-6-20 14:26:00 From: Beijing No. 19 High School
School Mission: To lay the foundation for the children's lifelong happiness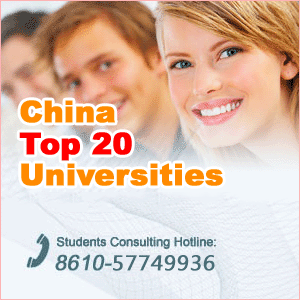 School Goal: To build up a high qualify school in all aspects
Brief Introduction:
1. Beijing No.19 High School, a public school, is located in the center of Zhongguancun Science Park, was established in 1916 with a history of 100 years. It has a garden Cstyle campus with sufficient facilities.
2. After more than 90 years' development, Beijing No.19 High School, covering an area of 102178 squares meters (about 153 hectares), currently offers quality education to about 2900 Chinese students and over 80 international students in 92 classes from grades 7 to 12. In addition, Beijing No. 19 High School has been authorized to enroll international students by the Beijing Municipal Education Committee since 1995, and so far it has international students from different countries, such as Switzerland, Germany, America, Canada, Nigeria, and South Korea and so on.
3. Every year, 20% of the international students, who graduate from Beijing No.19 High School, can enter some famous universities, such as Peking University, Tsinghua University, and Renmin University to get further education.
4. In order to develop international education exchange and popularize Chinese and Chinese culture, Beijing No. 19 High School, which has been a unique high school in cooperation with Great Wall Chinese Center, put Chinese teaching multimode training courses and cross-culture communication to use in class. At the same time, international students may use multimedia courseware language rooms free of charge.
Beijing No. 19 High School is authorized to undertake the Chinese Proficiency Test (HSK) and HSK preparation training courses as well.
5. In order to meet with the demands of the different groups of the students, who have got the different backgrounds and different academic level, we have built up different level classes for their development, including the Language Class A, Language Class B and also the all-leveled Senior classes. The students who have got the basic mandarin Chinese knowledge can enter into the Chinese classes in our school to carry on with their further language learning.
Facilities:
Full of culture and beauty, the campus provides students with modern and advanced facilities, where the students can enjoy multimedia classroom, library, gymnasium, multimedia courseware language room, chemistry & physical laboratory and well-equipped apartment. Two students share an apartment with a separate toilet and teachers will take turns taking care of the students all day. International students can enjoy the same food as Chinese students or foreign style food in specialized canteen.
Meanwhile, first rate teaching level has been offering to students. The teachers here boast high moral standards, vast professional knowledge and abundant teaching experience.

Enrollment Information:
International students, who are willing to learn Chinese Mandarin and Chinese culture, or willing to get a Chinese high school diploma, are warmly welcome to get high school education in Beijing No.19 High School. It is authorized to issue government-recognized diplomas to international students of high school, who have reached the qualification.
There are two semesters for international students, starting from the beginning of March and September respectively. Application for admission should be fulfilled from June to August or from December to February. Any appointment will be accepted if you need to come to school for enrollment or visit the office.
Procedure:
Please prepare and submit the following application documents.
(1) Application Form for Admission
(2) Photocopies of the applicant's passport and visa
(3) Original statement about the applicant's being in school or transferring to another school
(4) Transcripts or certificates offered by the applicant's former schools.
(5) HSK certificates(optional)
(6) 8 recent certificate photos of the applicant with 2 inch size
(7) Application Fee: 500RMB
Curriculum:
For the students in language class: Comprehensive Chinese, Chinese Listening, Chinese Conversation, English, Computer, P.E., Chinese Culture Experience and etc.
For the students in different grades: Chinese, English, Mathematics, Physics, Chemistry, Biology, History, Geography, Music, Fine Arts, P.E., Computer and etc. (the same as Chinese students)
Contact methods:
School address: 83 WanQuan Road, Haidian District, Beijing China.
(Opposite to the west gate of RenMing University)
Post code: 100089
Person to contact: Yang Yi, Huang Hong, Enrollment office: The International Department on the second floor
Hotline: 8610-82518560 , 13671128432, 8610-82518047
Fax: 8610-82518009
Email address: maybel881@qq.com 19guojibu@163.com
Website: www.bj19zx.cn